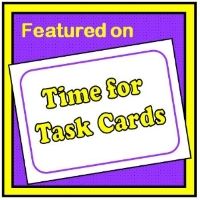 If you have followed me for a while, you know that I love teaching math using the workshop model! I find that it takes quite a bit of preparation, don't get me wrong, but I think it is totally worth it. My husband also keeps reminding me that this year might be a lot of preparation, but then I will have everything already put together; which should make next year a little easier. (Hopefully he's right, even though that doesn't happen often--don't tell him I said that!!)
I keep bragging to my coworkers about the amazing progress that I am seeing with my little darlings. It is so much more enlightening to work with groups of 6 or 7 students than it is trying to work with all 28 of them at once. I really get to see who know what (or who doesn't know what is more like it). The only bad thing about the bragging is that everyone now wants to come observe my classroom. I hate it when other adults watch me!!
I am sure most of you are familiar with a workshop model even if you don't do it for math. I have my students broken up into 4 groups. Since I have 28 students, I try to work the groups so that there are 7 in each group. I usually give a pretest before we begin a unit to help me decide who goes where. This is what my board looks like:
I used the acronym GIFT for my stations:
G = GAMES
I = INDEPENDENT WORK
F = FACT PRACTICE
T = TEACHER
This is what my board looks like which helps the students know what to do at each station.
The games usually come from my Everyday Math series although today's lesson used a game that I found on Pinterest. Unfortunately the Pinterest pin only took me to a picture, so I created the recording sheet myself and I am offering that to you for free. You just have to click on the picture below to grab your copy!
As you can tell, we are working on equivalent fractions. The students are learning the multiplication and division rule so they can easily find equivalent fractions. Today I also introduced quick common denominators and had the students begin working with adding and subtracting fractions. This Equivalent Fractions Race was a ton of fun and my students really enjoyed it.
Their independent work comes out of our math journals, so that one is easy to plan for. The teacher station is easy to plan for as well, since I usually introduce and practice the concepts they will need to do their independent work. I have my brightest students see me last because they can usually do the work without my help!! They are my red group. Here are some pictures of us in action:
Independent Work
Equivalent Fractions Race
whole class working without me!!
teacher group
The only station I have not mentioned yet is the Fact Practice.... I saved the best for last. I have become a huge fan of Rachel Lynette from
Minds in Bloom
. She is the "queen" of the task cards. They are her specialty and you can tell she really spends a lot of time creating them and making sure they align with the Common Core State Standards. I LOVE THEM and they make planning a lot easier. I am sure that whatever your students need practice with, Rachel has a task card to go along with it. Click
HERE
to see her huge selection!!
I just print them out, laminate them, cut them apart and give my kids the answer document. It is so easy and it is a much nicer way to practice than just using boring "drill and kill" worksheets. These pictures will show you how I setup my Fact Practice station:
So my students don't all have to fight over one container, I put the odd cards in one bin and the evens in the other.
I then put them next to each other, with the answer document easily accessible as well!!
The set of task cards that I was using today was the Simplifying Fractions set. This goes along with the Everyday Math division rule for equivalent fractions, so it fit in perfectly with my lesson!!
I could not run my math workshop without task cards!!! They are a great way to conserve paper and give your students all the practice they need. Oh, and there is always an answer sheet so your students can self check their work as they go!! Can you say teacher time-saver????
each task card is numbered, making it easier to keep track of the ones that have been completed!
I caught him in the middle of a "grab"
I hope you enjoyed this glimpse into my classroom. If you have any questions, let me know in the comment sections below. Oh, and try some task cards.... you'll love them!